Finding Mrs Machiavelli: though there are times when I see her more like this, And hear her voice…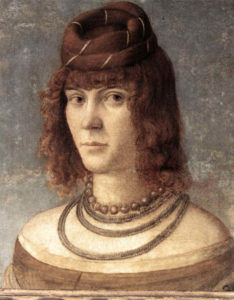 She has given it thought over the time he has been away, how to handle this young marriage of hers. She knows that complaint is not the way. But here she is complaining. How do other wives do it? Of course, gossip has trickled through to her – how could it not? – about the life this big brained husband of hers leads.
One night, when she was missing him, she had made the mistake of going through the papers in his desk. No snoop ever read well of themselves. But she had read nothing. Amid pages of notes she does not understand about everything in nature living, dying and being reborn without the need of any God, and the endless power of Fortuna, she finds a poem written in her husband's hand celebrating love like a bolt of lightning, passionate yearning words addressed it seems to every women rather than his wife. She who shares his bed and will mother his children is left outside when he steps inside his mind. She is angry with herself for expecting more. Such is the punishment for a woman who falls in love with her own husband. '
Outside, an owl hoots like a mournful ghost. Soon enough he will be packing his bag again and heading back into the maelstrom of politics. In his own way she knows he will miss her.
'Permanent envoy? How long will you be away?'
'Oh, not that long,' he lies smoothly, for why find trouble before it finds him. 'It is a great an honour for the family.'
'You don't have to tell me that, Niccolò. I am not a child.'
She turns to him now, opening her shift to let her breasts spill out. While there are prettier, certainly easier women in his life, with one's eyes closed their breasts are no fuller or no smoother than hers.
'So,' she says softly. 'Give me something to remember you with. With a little Fortuna – ' and she smiles at herself for the use of the word; snooping has its uses – 'it will be a boy, as ugly as you with the same moleskin of hair. That way when I stroke his head I will miss you less.'
Niccolò Machiavelli, permanent envoy and valued and honoured servant of the Republic. He thinks of his father, how proud it would have made him, and how much he would have relished holding a grandson in his arms, and his prick rises effortlessly to meet the softness of a wife who smells almost as good as a mistress in bed.
This extract from In The Name of the Family: A Novel of Machiavelli and the Borgias